For more than 35 years, Harry Schoell has built a reputation for design and innovation in the marine industry. The Pompano Beach businessman has had a knack for invention since childhood.
At 12, he carved boats out of packing crates and plywood. By 16, he was the lead designer in his father's boat-building company. Two years later, Schoell helped design a hull shape used by boat-builder Wellcraft. And by 22, he had patented a design for speedboats.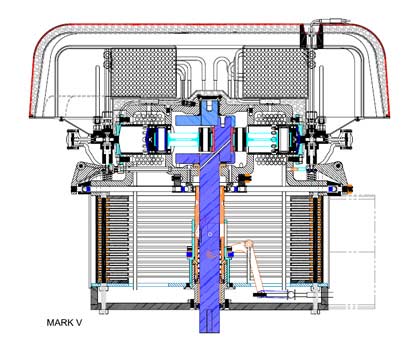 "Talent is an art that you're born with, you either have it or you don't," Schoell said in a recent interview.
With no formal engineering or design training, natural talent and skills learned from his father launched his boat-building career and shelved plans for college.
Today, Schoell is busy with his latest invention, the Cyclone Green Revolution Engine, developed by Cyclone Power Technologies Inc., a company he formed in 2004.
The Cyclone is an external combustion, heat-regenerative engine. With low emissions and exhaust, it is environmentally friendly and more efficient than traditional internal combustion engines, Schoell said.
Given market demands for alternative fuel sources and fuel-efficient vehicles, Schoell said it's the right time for the new engine.
The Cyclone could reduce dependence on petroleum and fossil fuels with its ability to run on ethanol, biofuel, diesel, gasoline and kerosene, said Wilson McQueen, Cyclone Power's vice president of sales.
"You could even mix them together in the same tank with no ill effects and you can even run this engine on vapor fuels like propane, methane and natural gas, " he said.
With no oil pump, radiator or catalytic converter, the engine should cost less to make, operate and maintain and is beyond the "proof of concept stage" said Schoell, who is now focused on licensing the technology to manufacturers primarily in the transportation, agricultural and heavy equipment sectors.
When Amir Abtahi first learned of the engine he didn't take it seriously.
"We get a lot of calls from people saying the energy crisis is going to be over with their inventions, so we're often very skeptical," said Abtahi, associate professor of mechanical engineering at Florida Atlantic University in Boca Raton.
In October 2004, Abtahi and a colleague did a technical evaluation of the engine and found it to be an "unbelievable improvement on an old idea."
But analyst Phillip Gott, director at Global Insight in Waltham, Mass., warns against buying into "inventor's enthusiasm."
Gott said the external combustion engine concept is fundamentally flawed and there's weakness in its heat transfer process. With 30 years in the automotive industry specializing in technical and competitive advantages, he's skeptical about its viability.
But Gott said they might have uncovered technologies that are of value and with components that havelicensingpossibilities, the engine should not be discounted.
Last month, Schoell met with parties considering licensing a lawn mower application to run on propane gas. Other future uses for his engine may include household generators and forklifts.
"We see the future where there is no more internal gas or diesel engines at all," McQueen said.
The U.S. military has shown interest in the engine for tank operations, and a licensee in Coconut Creek, Advent Power Systems Inc., has been working with U.S. Army procurement officials on generator uses, McQueen said.
Advent's CEO and president, Phillip F. Myers, saw the engine on display at a Society of Automotive Engineers trade show and was intrigued by its characteristics.
"It was superior to anything I had seen before and has the realistic potential of replacing diesel and gasoline engines in whatever applications it's used in," said Myers, an industrial and systems engineer with a doctorate from Harvard Business School.
In March 2006, Advent became the exclusive licensee of the Cyclone for U.S. military generator applications and last month signed another license for its use in U.S. Postal Service vehicles.
"We have large and ambitious plans, but the technology and market needs supports this and we are looking forward to a successful outcome," Myers said.