THE EVILS of car pollution could soon become a distant memory thanks to an invention by a Vale pensioner.
Instead of using retirement to drop down a few gears, Willie Gallacher has devoted the last seven years of his life to creating an electro-magnetic drive motor which he believes could replace the combustion engine.
The former Scottish Road Racing champion was inspired to act after he watched a television news report detailing the destruction car pollution has wreaked on the planet.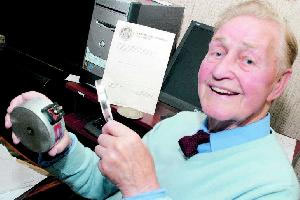 Since then, the pensioner has spent hours holed up in his workshop with all manner of magnets and alternators to ensure his sums add up.
And with the UK patent now confirmed, Willie has been in touch with engineers and car companies across the globe in the hope one will be able to help finance the creation of a full working model.
Willie said: "The electro-magnetic car will still have all the normal characters — brakes, lights and so on. The only difference is the block to drive the car, with the crank shaft powered by magnets rather than combustion.
"I have come up with something which no-one else in the world has. You can't take energy from nothing, so when the car is at a standstill in a traffic jam there would be a problem powering it, but I have found the solution."
Balloch man Willie is remaining tight-lipped about exactly how this part works, his invention has already attracted interest from as far afield as China.
Brother of famous Renton boxer Skeets Gallacher, Willie has a strong track record in inventing, having previously designed a vehicle driven by a wind powered generator.
He has also sketched plans to improve efficiency on cruise liners, but cars remain his real passion.
Willie added: "All my life I have been fascinated by cars, stripping them down and building them again. Now I want a car firm to take this on and build a working model.
"Even if nobody listens to me today, in ten years time I reckon they will be putting my name up in Renton next to Tobias Smollett. "Pollution is killing us and my invention could help to tackle it."
Environmental groups have applauded Willie's desire to address a worldwide problem.
Stuart Hay, of Friends of the Earth Scotland, said: "Emissions from conventional cars damage our climate and impact on public health.
"Whether this idea can provide a solution to any of these problems will have to be left to the experts to decide."