Waste Management, Inc. has announced a major national initiative to expand its roster of landfill gas to energy (LFGTE) facilities. The program will result in the creation of an additional 60 renewable energy facilities across the country -- including the potential of two additional facilities in South Carolina -- over the next five years.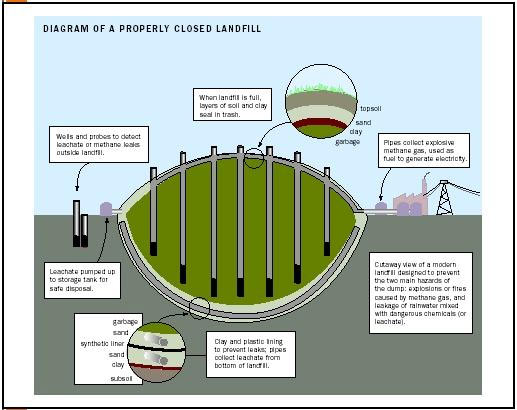 Waste Management currently operates LFTGE facilities at Elgin and Wellford. The two LFGTE plants generate nearly 16 MW of electricity -- enough to power 15,000 homes per year. The company is also two other landfills in St. George and Ridgeland, which could host a LFGTE facility. As part of the national initiative, WM will generate more than 700 megawatts of clean renewable energy -- enough to power 700,000 homes or replace over eight million barrels of oil per year.
Speaking at the City of Columbia's Environmental Conference, Paul Pabor, vice president of renewable energy stated, "This national initiative is a major step in Waste Management's ongoing efforts to implement sustainable business practices across the company. We're building on the success of our existing local facilities, using the experience we've gathered from over 20 years of developing landfill gas to energy projects to carry out the national 5 year program."
"We're proud to be a part of Waste Management's national renewable energy program. Our work with landfill gas to energy is a central part of our efforts to help make our landfills sites in South Carolina sustainable facilities" said Randall Essick, Senior Business Development Manager for Waste Management of South Carolina. "By providing 16 MW of clean, renewable energy, and possibly more with additional facilities at our St. George and Ridgeland landfills, we're helping to make the region that much more energy independent."
A pioneer in LFGTE projects, Waste Management designed and operated its first such facility in the United States over 20 years ago. With 281 landfills, Waste Management is the country's largest landfill operator and is in a unique position to expand waste-based renewable power generation across the country.
In recent years, consumer awareness of environmental issues and ambitious state Renewable Portfolio Standards have quickly increased demand for new sources of renewable energy. LFGTE projects are especially valuable to utilities because they provide dependable base load power, in contrast to the intermittent nature of other renewable energy sources.
Landfill gas, produced when microorganisms break down organic material in the landfill, is comprised of approximately 50-60 percent methane and 40-50 percent carbon dioxide. At most landfills in the United States, these greenhouse gases are simply burned off, or "flared." However, Waste Management sites with LFGTE facilities collect the methane and use it to fuel onsite engines or turbines, generating electricity to power surrounding homes and neighborhoods while creating a new revenue stream for the landfills. By building LFGTE facilities, Waste Management reduces greenhouse gases by offsetting the use of fossil fuel at the utility power plants.