FW2 Energy Inc. a developer of green energy, is pleased to announce it will test various algae products in its biomass plasma reactor (BPR).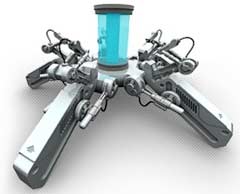 Mr. Michael McLaren states, "We are very excited about this feedstock as it would give us a tremendous advantage over competing technologies as micro algae as a feedstock is abundant, is not a commercial food crop and is a carbon dioxide (CO2) consumer, therefore the company would be eligible for carbon credits."
Micro algae can increase its biomass up to 4 times in a 24 hour period, thus making it a superior feedstock over traditional crops and or other biomass sources.
W2 Energy now has concluded its joint project for development of plasma assisted conversion of biomass to liquid fuel as of August 31, 2007. The company now intends to commercialize the results of the project as well as apply for the appropriate patents.
The company is beginning construction of 2 separate BPR reactors, one dedicated to coal which will be commissioned in Toronto, Canada and one designed for dried powered biomass which will be in a location to be determined in the Philadelphia area.
Both reactors will be coupled with W2 Energy's gas to liquid reactors and the liquid fuel will be marketed to its customers which the company has letters of interest from. Last year the company disclosed production quantity requests of its diesel fuel product in excess of 1.5 billion dollars..