Sony has successfully created a small Fuel-cell/Battery device for mobile electronics.
Sony has created a prototype fuel cell that is small enough to fit in your palm at just 50 x 30mm.
The device is a combo lithium-polymer and backup battery, as well as a control circuit designed for yet-to-created mobile devices.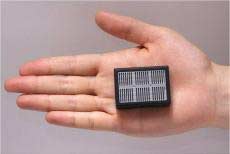 "We have been aiming to mount (a fuel-cell system) in mobile devices and finally reached a level of commercial design."
The laboratory plans to commercialize the system for mobile devices consulting with the operation division of Sony.
The new fuel-cell system is direct methanol type and uses methanol as fuel. Also, it is an active fuel-cell system, which controls fuel supply with a pump. The system is hybrid type with the output supplemented by a Li-polymer secondary battery. And it can deal with steeply rising peak powers of mobile devices.
Though Sony did not reveal the output density of the system, its instantaneous output can be as high as 3W, the company said. Just 10ml can power 14 hours worth of movie viewing.