An Australian company hopes to harness the power of the seas by mimicking the way ocean plants and fish respond to the swirling currents and tides surrounding them.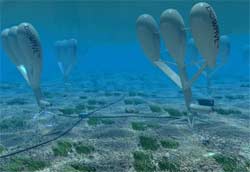 The unique system will incorporate structures which sway and bend to the power of the ocean, drawing inspiration from nature to extract renewable energy from the waves and tidal streams.
BioPower Systems Pty Limited has secured funding for its bioWAVE ocean power system and bioSTREAM tidal current power systems and has already commenced testing at the Australian Maritime College in Tasmania, Australia.
"This project will allow us to develop the technologies to be ready for commercial production within a couple of years," said BioPower's Chief Executive Officer, Dr Tim Finnigan.
"Design concepts have been verified through tank testing at the Australian Maritime College engineering laboratories while the best wave and tidal resources in the region have been confirmed through analysis of numerical simulations of tidal flows performed by oceanographers at CSIRO Marine Research Laboratories."
"Preferred deployment sites have been identified on the west coast of King Island [Tasmania] for the bioWAVE wave power system and near Flinders Island [Tasmania] for the bioSTREAM tidal power system."
"We aim to have both systems connected to the distribution grids with preliminary discussions already held with Hydro Tasmania, which provides power on both islands," Dr Finnigan said.
BioPower expects to commence fabrication of the 20-metre prototypes by mid-2008 with site installation planned by early 2009 according to a company statement.