Carbon Sciences is the developer of a breakthrough technology to transform harmful carbon dioxide (CO2) into high value, earth-friendly products, has announced its first application targeting a near term multi-billion dollar global market.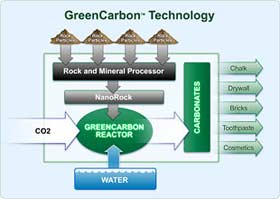 This initial application of the Company's technology is a process that will transform CO2 into a high value chemical compound, currently used in the manufacture of paper, pharmaceuticals and plastics. Unlike existing methods of production, Carbon Sciences' clean tech process will be carbon neutral, use less energy and result in a lower cost product.
The demand for this high value chemical compound (Precipitated Calcium Carbonate or "PCC") is projected to grow to 10 million tons by 2010, due to increased global paper consumption and construction in Asian countries. Of the forecasted total, approximately 70% of the PCC produced is expected to be used by the paper industry as brightness coating and filler.
The Company's management believes that energy and CO2 intensive industries, such as paper production, will welcome this innovative clean technology because it offers two very important benefits -- lower cost and carbon neutrality. For example, a paper mill with an integrated PCC plant, based on the Company's proprietary technology, will be able to transform its own CO2 emissions into PCC for immediate use in paper production -- thereby decreasing cost and CO2 emissions.
Commenting on Carbon Sciences' go-to-market strategy, Derek McLeish, the Company's CEO, said, "We are excited that the PCC market provides us with a lucrative near term opportunity. While the massive market for CO2 mitigation in coal-fired power plants may be years away, the multi-billion dollar PCC market is here and now."
Mr. McLeish further stated, "According to the International Energy Agency, the CO2 mitigation technology market is projected to reach $400 billion by 2030. In April 2008, for the first time in history, President Bush unveiled a climate change proposal suggesting that the U.S. would accept binding cuts on CO2 emissions and calling for a peak by 2023, starting with the power generation industry. We believe that by focusing our efforts on the existing multi-billion dollar PCC industry, we will be well-positioned to be a major player in the even larger $400 billion CO2 mitigation market in the future. This strategy is in line with our corporate mission of enabling a carbon neutral world by transforming CO2 into high value products, one industry at a time."