Slovenia-based Pipistrel is taking orders for what it claims is the world's first two-seater electric glider, Pipistrel CEO Ivo Boscarol told Greentech Media on Saturday.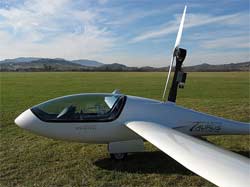 The company already has more than a dozen orders for the glider, called the Taurus Electro, and will begin delivering them by the end of the year, he said.
The Taurus Electro mates an electric motor to a glider with a 48-foot wingspan. The lithium-polymer battery pack weighs 101 pounds and provides enough power to climb to 6,000 feet at a climb rate of 560 feet per minute. Pipistrel CEO Ivo Boscarol says the battery pack recharges about as quickly as a cell phone and the Taurus Electro offers the same performance as the gasoline-powered Taurus. It will sell for around $100,000.
Pipistrel's news came out at the Electric Aircraft Symposium, a San Francisco gathering of about 70 aviation enthusiasts who hope to make the sky the next frontier for green technology.