It came to Terry Kenney while he was sleeping—a crystal clear vision of an apparatus that would harness the kinetic energy of gargantuan, smoke-spewing trucks to light up homes and businesses with energy that was safe, renewable, and completely clean.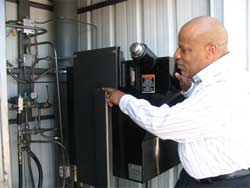 At the time, Kenney was struggling to make it in the music industry, and had no appreciable background in science or technology. Armed only with some logistics experience from his 10 years in the military, and a firm conviction that his idea could make the world a better place, Kenney set out on the hard road to securing funding.
Everybody said it was impossible. His father-in-law, who made a model of the invention to trot out before potential investors, told him in a moment of honesty that his idea just wouldn't work.
Fast-forward eight years, and here's Kenney, dressed in a crisply ironed shirt and slacks, standing in the compound of the largest terminal operator at the 255-acre Port of Oakland. A long line of trucks snakes its way to the San Francisco Bay, where two cargo ships wait to be loaded. One truck rumbles at about 15 miles per hour over a group of narrow plates embedded in the asphalt, and a moment later, a solar-powered shed beside the road begins to groan and rattle ominously.
They're the sounds of a dream coming true. Kenney cobbled it together from components manufactured all over the world—road plates from South Korea and Mexico, tubing and solar panels from different U.S. vendors, and power stations assembled in Mexico.
As the trucks power at low speeds across the plates, they compress a tank of hydraulic fluid under the road, which in turn creates a series of pumping actions that turns a generator to produce electricity. By June, Kenney projects the apparatus, which he dubbed the "Dragon Power Station," will be producing 5,000 to 7,000 kilowatt-hours of electricity each day—enough to power up to 1,750 homes.
The energy produced will be sold to SSA, the Oakland terminal operator that hosts the Dragon, at a discounted rate. The electricity the machine generates will cover only 5 percent of the operator's energy needs, but represents huge savings for the company—and a chance to jump on the green bandwagon.
An estimated 2,500 trucks pass through SSA's Oakland facility every day, filling the air with carcinogenic diesel fumes and soot, which can cause asthma and other respiratory ailments in port workers and local residents.
The plates Kenney developed for trucks are wide and sturdy. They were designed to weather the crushing force of trucks weighing up to 180,000 lbs. He developed a smaller version of the road plate for sedans and other passenger cars, which he hopes to one day see installed at high-traffic theme parks and toll bridges.