British Gas has unveiled the new type of fuel cell boiler that could turn any home into a micro power station.
The boiler uses a method known as combined heat and power (CHP) to generate electricity and simultaneously heat a home using natural gas. British Gas is testing the technology in 30 British homes and planning to put the units on sale sometime in 2010.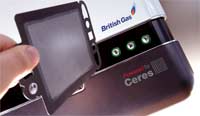 CHP has been used on a large scale to heat and power homes in Scandinavia for years, but this is the first time such a unit will be implemented in UK homes.
The unit is developed by UK-based Ceres Power and is designed to completely replace a home's existing boiler. Unlike roof-mounted solar panels or micro wind turbines, it won't be subject to changeable British weather. British Gas believes the annual gas and electricity savings could be up to a quarter off the bill of a home with a modern condensing boiler.
Instead of burning gas like a condensing boiler, this new machine passes gas through a fuel cell in a chemical process that creates heat and electricity simultaneously. In other words, it turns your home into a micro generator of electricity.
That also means your boiler will sometimes be generating more electricity than you're using, in which case you'd be able to export that back to the national grid.
Utility companies including Powergen have previously promised to bring micro CHP boilers to the UK. Earlier this month, boiler-maker Baxi also presented its own micro CHP machine, the Ecogen, which it expects to go on sale early next year -- potentially pipping the British Gas boiler to the market.
British Gas expects the new micro power station to cost about $4000 which means it should pay for itself in about 4 years.