Light-emitting diode maker Luminus Devices Inc. has closed $72 million in new funding, bringing the company's total raised to nearly $140 million since its photonic lattice technology was spun out of MIT in 2002. Luminus was recognized for "Best LCD Technology Demo" at 2008 CES for its 46" edge-lit LCD TV demo and unique edge-light PhlatLight LED backlight technology.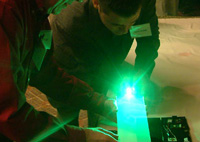 The Series E funding was provided by a syndicate of investors, including lead investor Braemar Energy Ventures of Boston, Stata Venture Partners of Westwood, Battery Ventures of Waltham, CMEA Ventures of California and Paladin Capital Group in Washington D.C.
Traditionally focused on bringing its Phlatlight light-emitting diode (LED) technology to high-end flat panel televisions and displays, the new funding is expected to help the company penetrate new applications, from commercial and consumer lighting to specialty applications in the medical, entertainment and homeland security industries, according to company officials.
"There is a tremendous need for higher-brightness, energy-efficient LEDs in a variety of lighting applications," said Cary Eskow, director of Avnet LightSpeed. "PhlatLight LEDs produce thousands of lumens from a single large chip and are uniquely suited to replace halogen, arc and fluorescent lamps in many applications such as entertainment, architectural and medical lighting. We look forward to making these remarkably high-performance products available to our customers."
Luminus' patented PhlatLight LED technology is leading the next generation of solid state illumination, breaking new ground in applications where high brightness LEDs have not been bright enough to displace conventional lamps. PhlatLight LEDs are considerably larger and brighter than conventional high brightness LEDs and are already proven as a replacement for high intensity lamps, offering more brilliant color and longer lifetimes in projection televisions and projectors. PhlatLight technology is currently used in products from some of the world's leading consumer electronics manufacturers, including Samsung Electronics and LG Electronics.