Metafoam Technologies has announced that its metal foam has yielded amazing results in hydrogen storage and could lead to never before seen Hydrogen storage capabilities and could finally make a low cost 300 mile range hydrogen vehicle possible.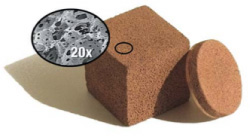 Preliminary tests were done at the University of Quebec by Professor Benoît Marsan's team. According to him, "such a material could lead to significant energy savings and thus encourage hydrogen usage as a green source of energy".
Metal foam has a unique microstructure composed of cells & windows that give it up to 100 times more specific surface area than competing foams because of its incredible construction that is 90% air.
Metafoam's nickel foams used as porous electrodes in water electrolysis have shown exciting results thanks to their high surface area. Actually, Metafoam's material has reached roughness factors of up to 25 times higher than standard porous meshes and competing metal foams.
"Metafoam's materials could lead to a significant performance increase in other electrochemical fields, namely chemicals production, fuel cells, and batteries", according to Dominic Pilon, Founder and Chief Technology Officer.
Metafoam Technologies Inc. is specialized in the development and commercialization of innovative open-cell metal foam solutions for thermal management, electrochemistry, and other value-added applications. Thanks to its unique production process, Metafoam is revolutionizing the metal foam industry by offering the highest specific surface area.