Strangford Lough in Northern Ireland is to get the world's first turbine capable of generating commercial amounts of electricity from tidal energy.
Bristol-based Marine Current Turbines (MCT) said that the installation will go ahead on Easter Monday, subject to favourable weather and further engineering work.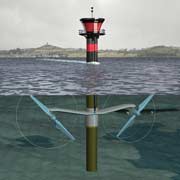 SeaGen is the biggest turbine of its kind in the world, with the capacity to produce 1.2MW of electricity - four times more than any other tidal turbine - and will generate clean and sustainable electricity for around 1,000 homes.
The giant turbine is environmentally friendly - it makes no noise, is almost completely below the surface of the water, never runs out and has zero emissions.
MCT has been given permission to install and operate SeaGen in the mouth of Strangford Lough - one of the fastest tidal flows in the world - for five years.
The company says it believes it will be realistic to achieve up to 500MW of tidal capacity by 2015, based on the SeaGen technology.
The turbine was set to be installed last August but the company had to cancel, because the huge crane barge chartered to install the device was delayed on another job and then damaged in an accident in port.
MCT said a replacement barge would sail to Belfast's Harland and Wolff shipyard, where SeaGen has been waiting since last summer, and load up on March 22.
It will then sail to Strangford in County Down, where the turbine is due to be installed on Easter Monday.
The whole operation is expected to take up to 14 days before the turbine, which cost £12m to develop and build, is fully fixed to the seabed.
Martin Wright, managing director of MCT, said: "There is global interest in SeaGen as it will be the first and largest commercial tidal stream device to be installed anywhere in the world.
"Looking ahead, MCT intends to manufacture and deploy a series of SeaGen devices in projects off Anglesey and on the Canadian seaboard within the next 2-4 years."