Fuel Frontiers, Inc. (FFI), a wholly owned subsidiary of Nuclear Solutions, Inc. announced that it has transferred funds to Shaw Stone & Webster (Shaw), a division of The Shaw Group Inc., to launch the engineering program that will provide a technical basis for a 400 Tonne per day Coal-To-Liquid (CTL) Ultra-Clean Diesel fuel production facility in Muhlenberg County, Kentucky.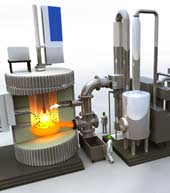 "I believe that The Shaw Group can supply everything we need to support our efforts to develop CTL clean fuel projects. With the launch of this engineering program, we have established our commitment to work with Shaw in Muhlenberg County, Kentucky," said Patrick Herda, President and CEO of FFI parent company Nuclear Solutions, Inc.
FFI is planning to employ a commercially proven plasma gasification system designed by Westinghouse Plasma Corporation (WPC) coupled to commercially available Fischer-Tropsch (FT) gas-to-liquids (GTL) diesel fuel production systems, to be designed and constructed by Shaw Stone & Webster (SS&W) for its coal to ultra-clean diesel production facilities.
The Shaw Group Inc. is a leading global provider of technology, engineering, procurement, construction, manufacturing, consulting, and facilities management services for government and private sector clients in the energy, chemical, environmental, infrastructure. A Fortune 500 company with nearly $5 billion in annual revenues, Shaw is headquartered in Baton Rouge, Louisiana and employs approximately 21,000 people (of which some 800 are based in the UK) at its offices and operations in North America, South America, Europe, the Middle East and the Asia-Pacific region.
Shaw Group companies in the UK comprise Stone & Webster Limited, a full-service engineering company established in 1938 and active in both the power and process sectors; Stone & Webster Consultants, providing technical consultancy and financial services to energy clients worldwide..