Airbus tested gas-to-liquid fuels Friday on a superjumbo A380 in the first flight of a commercial aircraft using the potential alternative to regular jet fuel.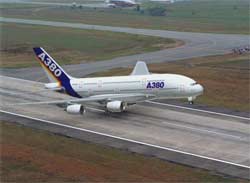 Airbus conducted the trial flight with Rolls-Royce Group PLC, whose Trent 900 engines power the double-decker A380 used for the trip, the Toulouse, France-based manufacturer said at a briefing in Filton, England. Royal Dutch Shell PLC., Europe's largest oil company, provided fuel for the flight, which didn't carry passengers.
GTL plants use natural gas, rather than crude oil, to make fuel that contains virtually no sulfur, including a mixture that can be used in cars. Airbus predicts that about 25 percent of fuel used in aviation will come from alternative sources by 2025.
"GTL is a good precursor to BTL," said Sebastien Remy, Airbus' head of alternative fuels research, referring to gas-to-liquid and biomass-to-liquid options. "When biofuels will be available, yes, of course, we'll use them."
Airbus is competing with The Boeing Co. to develop alternative fuels. Virgin Atlantic Airways Ltd., the British carrier controlled by billionaire Richard Branson, will conduct a biofuel test later this month with a Boeing 747. The plane will fly from London to Amsterdam, Netherlands, without passengers in a joint project with Chicago-based Boeing and engine maker General Electric. Co.
Biofuels, made from plant material, are years away from mass production. Shell is trying to develop second-generation biofuels that are more energy efficient and aren't made with food crops. Shell has said it's five to 10 years away from substantial second-generation biofuel production.
The Shell International Petroleum Co. unit participated in Friday's Airbus test flight, a three-hour trip between Filton, where the plane maker has a wing factory, and Toulouse.
"The trial has gone well," Gary Woodward, general manager of operations/technical and supply at Shell, said after the plane touched down in France. "It's gone exactly as we and Airbus expected."
The crew will provide assessments, and data will be analyzed over the next few weeks. Airbus plans to present results in several months.