Wärtsilä will deliver an unique fuel cell unit producing electricity and heat to the Vaasa Housing Fair site in Western Finland this summer. The fuel cell power plant is based on planar solid oxide fuel cell (SOFC) technology. The plant is estimated to be the first of its kind in the world and will provide heat and power for 50 homes.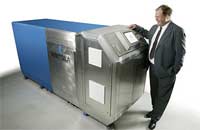 With an amazing efficiency of close to 90 per cent the unit can generate electricity at half the cost of coal or gas power plants.
The plant is fuelled by biogas or methane originating from a nearby landfill. At the first stage, it will produce an electric output of approximately 20 kW and a thermal output of 14 to 17 kW.
The characteristics of SOFC technology include a high operating temperature, excellent efficiency and the ability to use several different fuels, particularly natural gas and biogases.
The emissions from a biogas-fuelled fuel cell are very low, which means that the solution supports the development of sustainable energy technology.
The significance of biogases increases in decentralized energy production. The benefits of decentralized energy production include more efficient utilization of local sources of energy, shorter transport distances for fuels and reduced energy transmission losses.
Biogas-based fuels are energy sources compliant with sustainable development. In addition to landfills, biogases are generated in agriculture and water treatment plants, for example.

Part of long-term clean energy strategy
The development of fuel cell technology is a part of Wärtsilä's long-term development strategy for cleaner and sustainable energy production technologies. The fuel cell unit for the fair site is Wärtsilä's first field application of the fuel cell technology.
Wärtsilä is one of the leading companies in the world developing fuel cell systems based on SOFC technology. The development is supported by close collaboration with the Danish company Topsoe Fuel Cells A/S and VTT Technical Research Centre of Finland.
Fair is pioneering in clean energy
The Vaasa Housing Fair to be held between 11 July and 10 August 2008 is a pioneer in the implementation of clean energy production processes for a restricted area.
In addition to fuel cells, power and heat are produced with microturbines and from low-temperature heat collected from the sea bed using a geothermal heating pump..