Ceramic Fuel Cells announced it has secured the first big order for its energy efficient fuel cells, and there are reports that it expects similar orders in the next 12 months.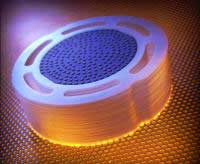 Shares in Ceramic rose 10 percent to 21p after it announced the five-year deal with Dutch energy firm and utility partner Nuon, worth between 75-100 million pounds ($147-197 million).
The deal means boilers containing its fuel cell units will start appearing in Dutch homes towards the end of 2009. Nuon will order 50,000 stacks for delivery from June 2009, providing Ceramic meets performance targets.
The deal is contingent on Ceramic Fuel Cells meeting commercial requirements set by Nuon. According to the company they need to improve the durability of the fuel cells, from the current two years to four, to meet Nuon's targets and they are confident this will be met and that production will begin by June 2009.
According to those familiar with the deal, the fuel cell units will be priced at between $3000 and $4000 apiece, and will be used in boilers priced at over $6000 and owned by the power utilities.
It is claimed that the boilers will have a four to five-year payback for the utilities. Analysts speculate that the money saved by utilities through producing electricity in peoples homes, which can be twice as efficient as producing in big power stations and sending it through the grid, will result in the next generation of boilers being given to customers for free.
Before Wednesday, Ceramic Fuel had only received orders for prototypes of its fuel cell units, although rival Ceres got an order for 37,500 units from British Gas owner Centrica in January, for delivery from 2011.
Australia and Europe-based Ceramic Fuel is also developing its fuel cell stacks with E.ON's Powergen, Germany's EWE and Gaz de France, which could result in further orders.
Ceramic Fuel also announced the construction of a €12.4 million factory in Heinsberg, Germany, with an initial production capacity of 10,000 units per year.