A $420 million large-scale solar power plant – the biggest and most efficient solar photovoltaic power station in the world - is to be built in north-west Victoria.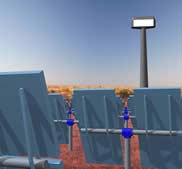 Australian company Solar Systems will demonstrate its unique, world leading design incorporating space technology in a 154MW solar power station connected to the national electricity grid.

The power station will use high performance solar cells originally developed to power satellites. Solar Systems has developed the capability to concentrate the sun by 500 times onto the solar cells for ultra high power output.

The Victorian power station will generate clean electricity directly from the sun to meet the annual needs of over 45,000 homes with zero greenhouse gas emissions.

The Australian Treasurer Peter Costello announced a $75 million grant to the project under the Federal Government's Low Emissions Technology Demonstration Fund (LETDF). Solar Systems was one of more than 30 companies that bid for $500 million under the LETDF program, which aims to foster competitive technology that will significantly reduce greenhouse gas emissions.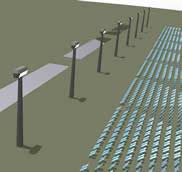 The Victorian Premier Steve Bracks announced that the Victorian Government will also support the project with a grant of $50 million; recognising the significant benefits that the project will bring to the State.

The station will be built in north-west Victoria. Solar Systems will build the power station across a number of different sites and will consult with local Government and communities about appropriate locations. Solar Systems has formed a new company – Solar Systems Generation Pty Ltd to construct the station.

Solar Systems' Managing Director Dave Holland said it was an exciting day for the company, which has invested over $50 million since it began developing the technology 16 years ago.

"This plant is the first step in a strategic plan to roll out large-scale solar technology across Australia and internationally. It represents the beginning of a new international industry," Mr Holland said. "This funding announcement significantly advances the company's technology commercialisation process that has already seen four smaller solar power stations established in central Australia. "