Dan Kramer's laptop computer has been running without recharging for 400 hours now and is still going, going, going — thanks to a new fuel-cell technology being built and tested in the Dayton area.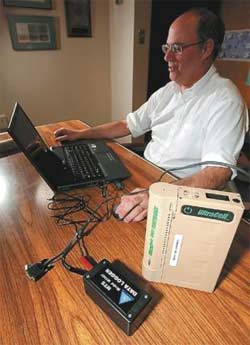 Powered by the UltraCell XX25 portable fuel cell, Kramer's laptop is one of two dozen mobile computers whose performance on the fuel cell will be tested over the next two years by Daybreak, University of Dayton and police and paramedics. Kramer, who heads the demonstration project, is a senior research scientist at the University of Dayton Research Institute.
The data collected by UDRI and Mound Technical Solutions will help UltraCell Corp. market and refine the book-size power unit, whose advantage in the field has drawn the interest of the military. The 101st Airborne recently bought 10 of the units, said Frank Beafore, vice president of operations for UltraCell's Vandalia plant.
Fuel cells operate like batteries but don't run down or require recharging. They will produce electricity as long as fuel is supplied. In the case of the XX25, it's a tube combining methanol and water. About every eight or nine hours, Kramer swaps the 12-ounce tube to keep the power going.
The XX25 delivers up to 25 watts of power and weighs 2.7 pounds. The technology has applications for computing, communications and sensing devices in use by the military, emergency and disaster-response teams and those conducting remote surveillance and field research, Beafore said.
UltraCell Corp., based in Livemore, Calif., opened in Vandalia last summer at the Dayton International Airport free trade zone, where parts of the XX25 are being manufactured. Beafore said they are priced between $2,900 and $5,000 per unit.
The demonstration project was funded with a $500,000 grant from Ohio's Third Frontier program..