Biomass Gas & Electric Company LLC (BG&E), an Atlanta-based renewable energy company, announces plans to build a power plant in north or Central Florida that will use waste wood products - such as yard trimmings, tree bark and wood knots from paper mills - to create electricity. The environmentally friendly plant will generate about 75 megawatts, or enough electricity to power 46,000 homes. By the use of advanced gasification technology the plant will convert the woody biomass to electric power in an oxygen free environment.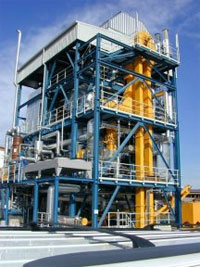 BG&E has signed a 20-year power purchase agreement for Progress Energy to buy the output of the plant. This is the second plant BG&E will build to provide power to Progress Energy out of a total of four power plants BG&E will build in the next four years. The two plants are the same size. The first plant for Progress Energy will be the largest waste wood-fueled power generating plant in the U.S. using advanced gasification.
BG&E's advanced technology uses a two-step process. First, the woody biomass is superheated in an oxygen-free environment to produce a synthetic gas. The gas, produced by breaking down the wood through superheating instead of burning, powers a turbine to generate electricity.
Heat from that process is captured in a second system, which uses the steam to run a generator and produce additional power. This highly efficient and extremely low-emission process, called combined cycle, offers a significant power production alternative that is both cost-competitive and environmentally friendly.
"We are very pleased to expand our relationship with Progress Energy Florida, providing clean and sustainable energy resources to assist with the state's future power needs," said Glenn Farris, president and CEO of Biomass Gas & Electric. "Through the leadership of companies like Progress Energy, the state of Florida continues to lead the Southeast - and the nation - in the promotion of clean, alternative energy for the production of electricity."
"Clean, renewable energy sources, such as this one, play a vital role in our balanced approach to managing Florida's growing energy needs," said Jeff Lyash, president and CEO of Progress Energy Florida. "This partnership continues our long history of supporting innovative technologies and promoting cost-effective, cleaner energy sources."
The contract will be filed for consideration with the Florida Public Service Commission (PSC). The company seeks PSC approval of the contract and certification of the proposed plant as a qualifying facility under Florida laws and regulations that encourage renewable energy.
"Hats off to both Progress Energy Florida and BG&E for investing in clean energy solutions that will further diversify Florida's fuel mix and improve upon Florida's economic well-being," said Jeremy Susac, director of the Florida Energy Office in the Florida Department of Environmental Protection.