A New Zealand-built boat that runs on biodiesel — and the fat of the captain —- is set to kick off an attempt to break the world speed record for circumnavigating the globe in a motorboat next year.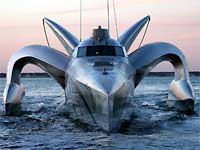 The 24-meter (78-foot) Earthrace, skippered by New Zealander Pete Bethune, will set off from Valencia, Spain, on March 1 and traverse the Atlantic, Pacific and Indian oceans as well as the Panama and Suez canals in its more-than-24,000-nautical-mile journey.
Bethune will be attempting to break the current world record of 74 days, 20 hours and 58 minutes, established by the Cable and Wireless Adventurer boat in 1998.
He has said he believes his trip could help promote biodiesel as a viable alternative to petroleum diesel.
"I wanted to do a positive project run on biodiesel and take it round the world," he has explained, noting that some 165,000 liters of biodiesel would be necessary for the trip, which will have a net carbon footprint of zero.
"Politicians in Western Europe must be prepared to stand up to the oil industry and be more supportive of the biofuels industry to make sure the production of biofuels is sustainable."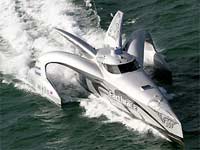 Along with its green fuel source, the Earthrace also has other ecologically friendly characteristics, such as non-toxic paint.
It was built in Auckland in 14 months at a cost of around $3.5 million, which Bethune helped fund by selling his house and possessions.
He also made a symbolic gesture towards the project, undergoing liposuction with two other volunteers, which produced 10 liters — a bit more than 2 1/2 gallons — of human fat, enough to power the boat for 8 nautical miles.
One attribute of the Earthrace boat is that it has the ability to "submarine" through waves, going up to 23 feet underwater, enabling it to maintain a higher average speed through big seas.