One decade after it brought its Insight two-seater electric hybrid car to North America and suffered the embarrassment of selling fewer than 20,000 of them over seven years, Honda Motor Co. is trying again. And it's not shying away from history.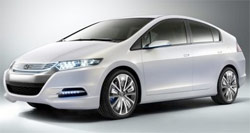 The Japanese-based automaker said Thursday it will revive the Insight name for a hybrid-only model coming to U.S. dealerships next spring. The reworked Insight, now a five-passenger, five-door compact hatchback, will battle Toyota Motor Corp.'s re-designed Prius in round two of the dedicated hybrid wars. And this time, Honda is banking on price and size to get things right.
"[Honda] has learned to go bigger, they've learned to go not quite so berserk in the styling," said George Peterson, president of AutoPacific, a marketing and product consultancy based in Tustin, Calif. "They've learned that people who want a very high fuel efficiency car don't want to give up much. Just because they're technology geeks and green folks doesn't mean they don't want a navigation system and all that sort of stuff. Toyota understood that early on."
When it was introduced in 1999, the first-generation Insight was billed as the first mass-produced gas-electric hybrid automobile in the United States and the first vehicle to break the 70-mpg (3.36 l/100km) fuel economy barrier. Its $504 annual estimated gas bill topped the Natural Resources Canada rankings of most fuel-efficient vehicles every year until Honda stopped making Insights in 2006.
But the car's small size, bare-bones interior and controversial styling alienated some consumers. Toyota's revamped Prius won far more buyers and remains the world's best-selling hybrid vehicle. First rolled out in the United States in 2000, the Prius is now among the top ten selling cars there and will soon be built at Toyota's new plant in Blue Springs, Mississippi.
A 30% increase in U.S. retail gasoline prices over the past year will push both vehicles onto buyer lists, said George Magliano, analyst at Global Insight in New York City. "Small cars, hybrids, anything that saves you on gasoline is going to sell well. And Honda's got the cache."
It also may have a price advantage. Honda officials have said the company wants to offer the Insight for less than US$18,500 with an expected 60mpg. The Prius now starts at US$22,000. "This new Insight will break new ground as an affordable hybrid within the reach of customers who want great fuel economy and great value," Takeo Fukui, Honda's chief executive, said in a statement.
Honda said it is aiming to sell 200,000 Insights per year, half of them in North America. It said it also plans to introduce another sporty hybrid car based on the CR-Z model first shown at the 2007 Tokyo Motor Show. In all, the company said its hybrid sales should grow to about 500,000 units a year, representing more than 10% of its total global auto sales annually.