Hamburg - Germany inaugurated Friday what it said was the world's first fuel cell-powered passenger boat in commercial use.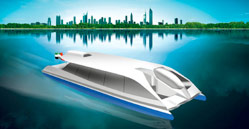 The FCS Alsterwasser is powered by twin fuel-cell motors similar to those already in use in the Germany Navy's most modern submarines and will take up to 100 passengers on lake cruises in the city of Hamburg. The cells burn hydrogen and emit no carbon dioxide.
German Transport Minister Wolfgang Tiefensee said at the inauguration that the European Union-backed project was a milestone for the new technology. The propulsion system was built by a German company, Proton.