Day4 Energy has announced that it has achieved a major breakthrough in its R and D program focused on the design and development of high performance solar cells.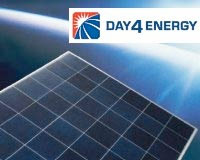 After months of intensive research and experimental trials, the company has developed a design and manufacturing process for its Generation II solar cells with efficiency up to 19 percent on mono-crystalline and 18 percent on multi-crystalline silicon materials.
The new design constitutes a significant improvement not only in maximum efficiency but also in low cost manufacturing and lower commercialization risk.
The application of the Generation II photovoltaic (PV) cell technology for multi-crystalline products is particularly important because of the material's lower price point and the company's secured cell supply.
The Generation II technology was designed to be fully compatible with Day4 Energy's existing manufacturing equipment, enabling rapid deployment and scale-up.
The technology further leverages existing solar cell manufacturing infrastructure as well as certain processing techniques widely deployed in other industries.
The company expects that a combination of the technology and manufacturing process will reduce production costs by up to 25 percent of what is currently possible with conventional technology.
"Our first generation 14.7 percent efficiency Day4 MC module, which has been in commercial production since 2006, already places us among the industry's highest performing multi-crystalline products," said Professor Leonid Rubin, chief technology officer of Day4 Energy.
"With the second generation of our proprietary solar cell designs we are taking a major step towards making solar energy cost competitive with conventional sources of electrical power generation."
"I am truly proud of our research team. A combination of high performance technology with low cost and manufacturing scalability represents a very significant achievement in reducing the kilowatt-hour costs of solar electricity" adds Dr. John MacDonald, chairman and CEO of Day4 Energy.
"Performance at this level using less costly multi-crystalline material cannot be achieved without employing the Day4 Electrode technology."
Day4 Energy expects to fast track commercial scale-up of its high performance PV cell technology over the next 18 months and is currently in discussions with a number of partners in respect to this process. The company has also recently filed a patent application in connection with this invention.