Green Star Products Inc. has announced that EcoAlgae USA is set to begin construction of the first of its kind commercial algae production facility in conjunction with an integrated biorefinery complex in Missouri.
The EcoAlgae project will involve algae production at the heart of this biorefinery complex because its high production biomass feedstock only requires sunlight, CO2 and brackish or saltwater.
"(This will be) the first facility of its type in the nation," said Marshall-Saline Development Corporation Executive Director Roy Hunter, the man who spearheaded this project. "It's going to bring national recognition to Saline County as a renewable fuels region."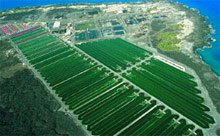 "(This) should make us a home base for research and advanced renewable fuels in the future."
According the United Biorefineries Corporation algae produce 100 times more oil per acre than traditional food oilseed crops.
Patrick LaStella of Green Star Products has been on the record saying, "This is the only answer to our fuel crisis."
Other benefits listed by the United Biorefineries Corporation are that algae can reproduce themselves and their oil every six hours, algae eat CO2 and produce oxygen, algae do not compete with food crops for either agricultural land or fresh water, and the oil byproduct is a highly nutritious, protein- rich food.
"The biorefinery will be the first of its kind and will incorporate all the technologies to produce oil, cattle feed, electricity, biodiesel, cellulosic ethanol and steam," the company said in a press release.