An electric-powered airplane flew over the main air show runway at the Oshkosh Air Show on Sunday, and it wowed the crowd with its quietness. Recognizing its uniqueness, onlookers applauded as the airplane made its first pass.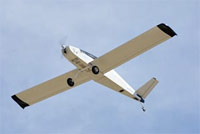 Piloted by Joe Bennis, the ElectraFlyer C made three passes in front of air show center. Randall Fishman, president of the Electric Aircraft Corp., which designed the powerplant, said that the quietness of the engine and absence of vibration are two of the machine's best qualities. Not to mention that you can recharge its 18-hp motor in as little as two hours at a cost of about 75 cents with a 110-volt charger. That's right-75 cents. "That makes the proverbial $100 hamburger cost … well, the price of the hamburger plus 75 cents," Fishman quipped.
The ElectraFlyer-C cruises at 70 mph, stalls at 45 mph, and has a top speed of 90 mph and a flight duration of 1-1/2 to 2 hours. The motor direct drives a 45-inch ground adjustable, two-blade PowerFin carbon fiber propeller, which lifts the ElectraFlyer-C at a climb rate of 500 to 600 fpm. Takeoff rpm is 2800.
The motor draws power from a custom-built lithium polymer battery pack; batteries are projected to have a life of 1,000 cycles. Weighing in at 78 pounds, the battery pack produces 5.6 kilowatt hours and can be recharged in as little as two hours using a 220-volt charger (or six hours with a 110-volt charger). Fishman says it's feasible to carry a small 110-volt charger as baggage on cross-country flights.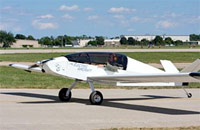 Fishman was honored with the Dr. August Raspet Memorial Award on Thursday afternoon during an electric aircraft forum with a standing ovation from the crowd, which was anxious to see the airplane fly. And now it has, to the delight of Fishman.
The Electric Aircraft Corp. does not sell the airplane but does offer complete powerplant packages, including the motor and controller.