Raser Technologies has joined with New Mexico governor Bill Richardson, former United States Secretary of Energy, to announce the beginning of the construction phase of the first commercial geothermal power project in New Mexico. Raser Chairman Kraig Higginson introduced Raser's geothermal power project at Lightning Dock near Animas, New Mexico along with its unique geothermal development process. Joining Mr. Higginson and Governor Bill Richardson in the announcement were other state officials including Fred Mondragon, Director of Economic Development, and Mark Fesmire, Director of the Oil Conservation Division for the State of New Mexico.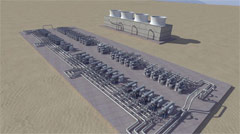 Situated at Lightning Dock near Animas, the new plant will incorporate an innovative binary liquid technology that allows it to make use of the site's low levels of geothermal energy. If more of these modular plants are built then they could be mobilized to take advantage of over 120,000 MW of untapped low-temp geothermal energy across the US.
"In the clean energy state of New Mexico, we are working hard to bring more renewable energy online," said Governor Richardson. "Our state has already shown leadership in developing wind and solar energy resources. Now we are proud to be one of the first states to deploy new technology with Raser, that will help unlock our geothermal resources for power production without damaging our environment."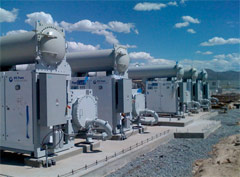 The power plant will be one of the first in the country to use new low temperature geothermal power generation technology in a proprietary modular power plant design by Raser Technologies. Raser teamed with UTC Power, a United Technologies Corp. company, to develop a rapid deployment strategy utilizing their new PureCycle® power generation units that are now being delivered to Raser's project site near Animas, New Mexico. This rapid deployment strategy significantly accelerates the time-line for developing a geothermal power plant. One of Raser's UTC Power PureCycle® modular power generation units was on display at the governor's office in Albuquerque on its way to be delivered to the site of the Lightning Dock power plant.
Senator Jeff Bingaman, United States Senator from New Mexico and Chairman of the Senate Energy and Natural Resources Committee, stated, "I am pleased that Raser Technologies has begun construction of New Mexico's first geothermal power plant. This marks an important step forward for utility-scale, clean, renewable energy. We should be using our geothermal assets more, and the unique technology applied to this plant will allow that to happen."
Lightning Dock was one of many geothermal wells drilled in New Mexico over 20 years ago during the last energy crisis, but it was not hot enough to generate electric power using the technology available at the time"
Today, using new technology, this site along with many others across the state and throughout the west can become productive geothermal power plants converting available heat into electric power at a very competitive market price. The first commercial geothermal power plant in New Mexico is anticipated to begin producing 10 megawatts (MW) of clean renewable energy by early next year. Phase two of the project will expand the plant to 20-25 MW of power, enough to power nearly 15,000 homes.
Senator Pete Domenici of New Mexico, a ranking member on the Senate Energy and Natural Resources Committee, commented about the renewable energy project saying, "I'm excited about this new geothermal facility, and what it can do for our State's energy future. If we are to meet our energy needs in the coming years, it is clear to me that we must put every available technology to use."
Dick Clayton, Executive Vice President for Raser Technologies, commented, "We believe that the completion of this renewable energy plant over the next several months will mark the beginning of an expanding role for geothermal power in our nation's energy future."