The Peugeot 888 is the personal vehicle for the future Metropolis. The car carries two persons and medium amount of luggage. This is the car for travelling within the city and to the suburbs, for daily driving and weekend cruising.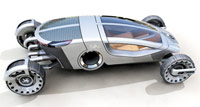 When driving in the city the vehicle has the ability to "shrink". The center of the cars profile has a hydraulic tilting system that rises the car, making the distance between the wheel axis decrease. This results in a rised up cockpit which enhance the drivers traffick overview. The short wheel axis distance will also increase the manouverability in narrow places making the car able to take a sharp u-turn. A short wheel axis distance also makes it easier to find a suitable parking space.
When leaving the city, entering the highway the vehicles requirements alter to "need for speed" Lowering the vehicle to a closed shape, the car gets a long distance between the wheel axis and a low point of gravity which gives the car stability at high speed. The cockpit lies down and the driver gets a more cruising position.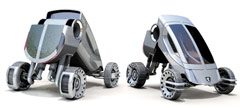 The seats has got joints that partially follows the cars movements from city-mode to highway-mode.
The vehicle is powered by an electric engine in each wheel. The engines are powered by a lithium-ion batteries located in the trunk. For additional battery charging, the trunk is covered with solar cells
The name "888" is illustrated by three numbers, one vertical, one diagonal and one horizontal. The last number creates an infinity symbol, symbolizing the vehicle being environnementaly conscious. The three numbers also symbolize the movement of the car, changing from city mode to highway mode.