A British-built solar-powered plane has shattered the world record time for the longest flight without anyone on board.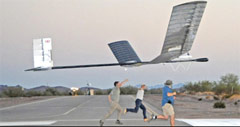 The testing of the Zephyr solar-powered high-altitude long-endurance (HALE) unmanned aerial vehicle was carried out in the United States, over the Arizona desert on the U.S. Army's Yuma Proving Ground. The successful test is being considered a breakthrough in military intelligence.
The plane, Zephyr-6, remained in air for 82 hours and 37 minutes, flying through the night on batteries it had recharged from sunlight during the day time. Although QinetiQ Group PLC conducted the test on July 28-31 the announcement was just made.
QinetiQ Group PLC demonstrated the flight of Zephyr-6 for the U.S. military, which has been looking for new types of technology to support its troops on the ground.
The successful completion of the flight makes it likely that the unmanned plane will also be used by the U.K. on the battle ground for reconnaissance and to relay battlefield communications.
The company also said that it has broken the official world record of 30 hours and 24 minutes set by the U.S. robot plane Global Hawk in 2001 and the Zephyr's own previous record of 54 hours achieved last year.
But the latest flight conducted at the U.S. Army's Yuma Proving Ground in Arizona was "unofficial" because Hampshire-based QinetiQ didn't involve the Federation Aeronautique Internationale, the world sports federation that sanctions all record attempts.
Engineers behind the Zephyr at QinetiQ have reportedly said they are now trying to further refine the technology on the plane so it can stay in flight for months at a time.
Funding for the Zephyr came from various U.S. and British military agencies that are interested in the craft because of its potential for reconnaissance flights and battle-field communications.