Hyundai Motor Co expects to release its first hybrid in the US market as early as 2010, featuring cutting-edge lithium-ion battery technology, according to an executive.
John Krafcik, vice president for product development at Hyundai, said the automaker would offer a hybrid version of the Sonata sedan for American consumers and would unveil a prototype of the vehicle in November.
"Our first US hybrid is going to be the Sonata," Mr Krafcik told reporters at an event hosted by Hyundai. When asked about the timing, Mr Krafcik said the Sonata hybrid was likely to be launched in the 2010 calendar year.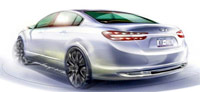 That timing could make the upcoming Hyundai hybrid one of the first mass-market vehicles on US roads featuring lithium-ion batteries, now widely used to power consumer electronics including cell phones and laptops.
The new Hyundai hybrid will join an increasingly crowded field of hybrids and electric cars that major automakers are readying in response to higher gas prices and the sudden premium on fuel efficiency in a US market long dominated by pickup trucks and SUVs.
Toyota Motor Corp has scored a sell-out hit with its market-leading Prius and is converting a plant now under construction in Mississippi to build the hybrid.
For its part, Honda Motor Co is readying a new dedicated hybrid model for an April 2009 launch in the US market. The No. 2 Japanese automaker has said that new hybrid will sell for less than the Prius.
Existing hybrid cars, including the Prius, use nickel-metal hydride batteries. Lithium-ion technology is seen as key by automakers and suppliers to extend the electric-only range of hybrids although the batteries are also expected to add thousands of dollars to the cost of cars, depending on their capacity.
Mr Krafcik said Hyundai would detail its hybrid plans at the Los Angeles Auto Show, which has emerged in recent years as a forum for major automakers to show off environmentally friendly models still in development.
Korean battery maker LG Chem is supplying Hyundai with lithium-ion batteries for its hybrid vehicles and is in the race to supply batteries for GM's Volt.