UK specialty car manufacturer Trident Performance Vehicles says it is all but ready to begin selling its new diesel supercar, the Iceni. According to company officials, the Iceni can reach 60 miles-per-hour in less than four seconds and crest 200 mph. Further, through the use of torque multiplication, the company is claiming that the car has achieved 68.9 miles-per-gallon at a steady 70 mph during a test at the Millbrook Proving Ground. All-in, the company suggests that the composite-bodied, stainless-steel chassis'd grand-tourer will have a bladder-busting range of 2000 miles. Needless to say, we will believe all of this when we see it.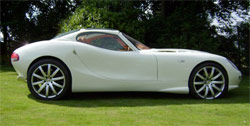 According to the company's spec box, the Iceni is powered by a 6.6-liter engine, leading us to believe that it's a derivation of GM's Duramax, an engine that normally sees pickup duty. However, no details as to the engine's supplier have been given.
Perhaps tellingly, TPV is using a press release to call out government agencies for not supporting the Iceni's development, despite the company's numerous attempts to file for grants. In any case, they say they've invested £2.3 million (around $4.28M U.S.D.) to develop the car, but it appears they need more money to bring it to market.