Mazda has ambitious plans for its next-generation RX-8 with the introduction of its first hydrogen powered rotary engine.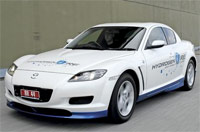 In a bid to curb the current car's high fuel consumption and emissions, Mazda has decided the only way to make its rotary engine clean and green is to offer a dual-fuel version capable of running on both hydrogen and petrol. Mazda has been experimenting with hydrogen power for more than two years now, firstly in the RX-8 Hydrogen RE, and more recently in the Premacy MPV.
One source close to the firm suggested top brass will even discard the RX-8 name and employ a new badge, most probably RX-9, to highlight the coupé's hydrogen-petrol dual-fuel powertrain.
Expected to be rear-wheel drive and take styling cues from the Taiki concept, the new RX-9 will offer a choice of manual or automatic transmissions and generate up to 20 per cent better economy and emissions than the current test mule.
But given that power falls by around 20 per cent when switched to hydrogen mode, engineers envisage owners using it for city driving, then flicking to petrol when more performance is required.
In this way, Mazda expects to improve the rotary's economy, performance and emissions levels, bringing them more in line with petrol-electric hybrids. Sales are likely to start in 2012.