New York-based First Pellet Boilers (FPB) and Ireland-based Gerkros Boilers have joined forces to bring a competitive new choice to U.S. consumers for carbon-neutral, ultra-high-efficiency, low-cost home heating solutions.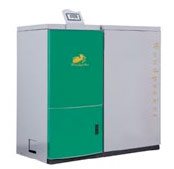 In a three-year licensing deal, worth up to $40 million, Gerkros selected Irish-owned FPB as its exclusive U.S. distributor to market the company's award-winning "Woodpecker" renewable-energy heating solutions.
Already demonstrating remarkable efficiencies in Ireland, the "Woodpecker" represents a new-generation heating solution-fueled entirely by recycled compressed sawdust-that will reduce home heating costs by up to 70 percent.
The deal was signed following an evaluation of the "Woodpecker" at OMNI-Test Laboratories, Inc. in Oregon, where the boiler underwent rigorous testing to ensure compliance with stringent U.S. performance criteria and safety regulations.
The Gerkros/FPB partnership occurs at a time of unprecedented home heating challenges for U.S. consumers. With the winter season approaching and oil prices remaining unchecked, home heating bills are predicted to skyrocket.
The situation will be particularly acute in the north east of the country-the first regional target on FPB's market roadmap. The "Woodpecker" offers an ultra-cost-efficient alternative to conventional oil and natural gas-driven boilers. It is fueled by inexpensive, recycled wood chips which, up to recently, were consigned to the country's landfills.
Now, this valuable raw material is encountering a second life in products like the "Woodpecker" and greatly reducing the cost burden associated with home heating. For instance, heating a 3,600 square foot home with a "Woodpecker" stove requires approximately three tons of pellets for an average winter season.
At approximately $325 per ton, the total cost of heating the home and providing hot water comes to under $1,000.
For more than three decades, Gerkros has manufactured a range of boilers for the domestic Irish market and more recently for customers in Europe. Throughout that time, they have progressively refined the technology to offer greener alternatives to environmentally conscious customers. The "Woodpecker" represents one of the greenest products in their portfolio.
With a 94 percent energy conversation rate, it rivals the performance of leading-edge fossil fuel-driven boilers, but at a fraction of the overall cost. Teaming up with FPB gives Gerkros access to a dedicated U.S. sales force and a comprehensive network of support staff throughout the U.S.
According to one of First Pellet Boilers' principal partners, Brian Rutledge, "We spent considerable time evaluating boiler vendors from Europe who shared our green vision and our determination to offer U.S. consumers a technology that could dramatically reduce the cost of heating while leaving a minimal carbon footprint.
In Gerkros, we found a combination of both, along with a home heating solution that is simply superior to boilers from all other vendors we looked at. Our partnership enables us to bring this highly innovative product to U.S. consumers."
Citing the FPB partnership as a key component of his company's growth strategy, Gerkros CEO, Ger Crosse noted, "Given the energy challenges facing today's consumer, we couldn't have chosen a more opportune time to enter the U.S. market with our renewable energy boilers. We're especially pleased to have found a professional partner that is dedicated to successfully seeding our products. We have invested substantial resources in refining the technology and expanding our manufacturing infrastructure to meet anticipated demand from the U.S. market. We're looking forward to working with FPB and growing our presence in the region."
Assisting with the deal was Enterprise Ireland, the Government Agency responsible for driving leadership and growth for innovative Irish companies in international markets.
Enterprise Ireland's Director for the Americas, Tom Cusack noted, "This is a very significant deal for Gerkros Boilers. I wish the company and their U.S. channel partners, First Pellet Boilers, every success as they work to achieve their goals in the fast-growing U.S. market."
The "Woodpecker" home heating solution is on display for the first time in the U.S. at FPB's New York headquarters, 1 Odell Plaza, Yonkers, New York. It will also be exhibited at the Fall Westchester Home Tradeshow, November 1 and 2 2008. It can be ordered directly from FPB.