Metabolix, Inc. has announced that in recently-completed greenhouse trials, switchgrass plants engineered using Metabolix multi-gene expression technology produced significant amounts of PHA bioplastics in leaf tissues employing Metabolix's expertise in pathway engineering in plants. This result is the first successful expression of a new functional multi-gene pathway in switchgrass, and demonstrates the Company's pathbreaking bioengineering capabilities as a powerful tool for maximizing the potential of biomass crops for both bioplastics and biofuels production.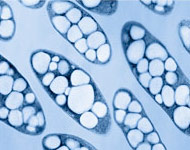 "Metabolix has been developing technology to produce PHA polymer in switchgrass for over 7 years," said Dr. Oliver Peoples, Chief Scientific Officer. "This result validates the prospect for economic production of PHA polymer in switchgrass, and demonstrates for the first time an important tool for enhancing switchgrass for value-added performance as a bioenergy crop."
Switchgrass is a native prairie grass that can be grown in abundance in the United States. It has been identified by the Department of Energy and the Department of Agriculture as a prime feedstock for producing next generation biofuels and bioproducts. The 2007 Energy Security and Efficiency Act mandated 16 billion gallons of ethanol produced by biomass crops such as switchgrass by the year 2022.
"A key corporate goal has been to develop value-added industrial crops such as oilseeds, sugarcane and switchgrass," said Richard Eno, President and CEO of Metabolix. "This proof of concept in switchgrass is an important milestone as we develop commercialization strategies for our plant science activities."
A detailed scientific paper on the technology entitled "Production of polyhydroxybutyrate in switchgrass, a value-added co-product in an important lignocellulosic biomass crop" was recently accepted for publication in Plant Biotechnology Journal.