The municipality of Hengelo and the University of Twente (UT) are paving a test road section in Hengelo with air-purifying stones. The top layer of the concrete stones converts nitrogen oxide from exhaust fumes into harmless nitrates.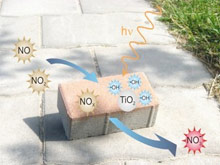 Car exhaust fumes contain nitrogen oxides (NOx). Nitrogen oxides cause acid rain and smog. This problem can be partly solved by using air-purifying paving stones. The top layer of the paving stones is made of air-purifying concrete. This concrete contains titanium dioxide, a photocatalytic material which uses sunlight to convert the nitrogen oxides in the air into harmless nitrates. The rain then washes the streets clean.
Based on a Japanese invention, the stones were further developed and their effectiveness demonstrated by the UT in its concrete research laboratory. The next step now is to test the stones in practice. The municipality of Hengelo has made the Castorweg location available for this purpose. The street will be divided into two sections, one half will be paved with conventional stones and the other half with air-purifying ones. The air quality will then be measured in each section to test the effectiveness of the stones. As an added bonus, the stones repel dirt and therefore always stay clean.
The location in Hengelo was chosen because of the volume of cars and the fact that the road is being reconstructed. The local air quality is currently well within the norm.
This trial is being carried out with stone producer Struyk Verwo Infra. As part of its 'Effective Sustainability' programme the province of Overijssel has granted a subsidy for the project. The province of Overijssel sees these stones as a good future opportunity for improving the air quality at places where the norms are not met. The demonstration project also has national significance.
The road reconstruction is expected to be completed by the end of the year. Measurements will then start early next year, with the first test results expected around the summer of 2009.