Houston-based Hydro Green Energy LLC is teaming up with another Gulf Coast company on what could be the world's first combination wind-hydro power project in the Gulf of Mexico.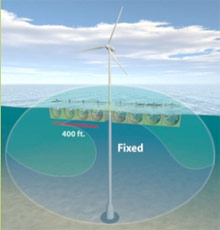 Hydro Green and Wind Energy Systems Technology Group, a New Iberia, La., company with offices in Houston, have agreed to explore options that could use wind and water currents to generate almost 5,000 megawatts of energy.
"If the data we gather confirms that the Gulf has the currents needed for utility-scale ocean power, we plan to aggressively move forward to develop the world's first offshore wind-hydrokinetic power projects," said Wayne Krouse, chairman and chief executive officer of Hydro Green Energy.
Krouse's company last week filed 10 preliminary permit applications with the Federal Energy Regulatory Commission that would allow Hydro Green an exclusive, three-year right to develop the hydrokinetic portion of the projects, which are all in Texas waters.
WEST already holds significant leases in state-owned waters and submerged lands for its wind power projects. Under the terms of the agreement, Hydro Green will have access to WEST's platforms and lease areas for research and testing.
Hydro Green's hydrokinetic power systems, which work without building dams or major underwater structures, will soon be deployed at a project in Hastings, Minn., which will be America's first federally licensed commercial hydrokinetic power project. Projects are also under way in six other states, including Texas and Louisiana.
In April, Hydro Green closed its $2.6 million Series A funding round led by the alternative energy and intellectual property investor Quercus Trust. A Series B round is expected to close at the end of this year, and the company plans to commission a manufacturing facility next year that would create about 100 manufacturing jobs.