Solazyme, the San Francisco based bio tech company, has produced the first Algal-Based renewable Bio Diesel to pass American Society for Testing and Materials specifications.
Solazyme has announced that SoladieselRDTM , a microalgae-derived renewable diesel, has passed American Society for Testing and Materials (ASTM) D-975 specifications. The company claims that SoladieselRDTM is the first algal-based renewable bio diesel to meet these standards.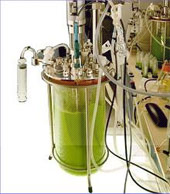 In a 100% blend, SoladieselRDTM has been road tested in a factory standard 2005 Jeep Liberty diesel. The fuel's chemical composition is identical to that of standard petroleum based diesel, and SoladieselRDTM is fully compatible with the existing transportation fuel infrastructure. Having fewer particulate emissions, SoladieselRDTM also has a more desirable environmental footprint than standard petro-diesel. In addition, it meets the new ASTM ultra low sulfur diesel (ULSD) standards.
"This now marks the production of our second fuel that meets current U.S. fuel specifications and is an important validation of our proprietary process using microalgae to produce renewable fuels," said Jonathan Wolfson, chief executive officer of Solazyme. "Solazyme's leadership in the green fuels space will continue to grow as we now execute on our strategy for commercial launch."
The only advanced biofuels company producing at scale, Solazyme implements a unique microbial fermentation process that allows algae to produce oil in massive vessels quickly, efficiently and without sunlight. The process can utilize many forms of non-food feedstocks, including waste glycerol and many cellulosic materials including wood chips, corn stover and switchgrass. The resulting oils can be leveraged across a wide variety of industries and applications, including fuels, edible oils and chemicals and are completely biodegradable, nontoxic and safe.