Toyota Motor Corp. plans to install solar panels on its next-generation Prius hybrid cars to power the vehicle's air conditioning.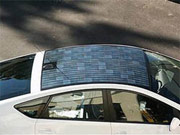 The Prius, the world's first mass-produced gasoline-electric hybrid car, first went on sale in Japan in late 1997 and in other markets in 2000, and its cumulative sales have topped 1 million units worldwide.
The high-end trim lines of the redesigned Prius will have solar panels on the roof, which will supply part of the 2-5 kilowatts needed to power the air conditioners.
If it happens, Toyota would be the first major carmaker to use a solar power generation system on a mass-produced vehicle. The solar panels would be made by Kyocera Corp.