A team of Chinese scientists has made a chemical breakthrough that efficiently turns the lignin in waste products such as sawdust into the chemical precursors of ethanol and biodiesel.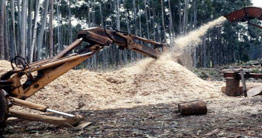 In recent years, the twin threats of global warming and oil shortages have led to growth in the production of biofuels for the transportation sector.
But as the human digestive system will attest, breaking down complex plant molecules such as cellulose and lignin is a tricky business.
The biofuels industry has relied instead on starchy food crops such as corn and sugar cane to provide the feedstock for their reactions. But that puts the industry into direct competition with humans, and food prices have risen as a result.
A second generation of biofuels could relieve the pressure on crop production by breaking down larger plant molecules.
But cellulose makes up only about a third of all plant matter.
Lignin, an essential component of wood, is another important component and converting this to liquid transport fuel would increase yields.
However, lignin is a complex molecule and, with current methods, breaks down in an unpredictable way into a wide range of products, only some of which can be used in biofuels.
But now, according to a report in New Scientist, Yuan Kou at Peking University in Beijing, China, and his team have come up with a lignin breakdown reaction that more reliably produces the alkanes and alcohols needed for biofuels.
Lignin contains carbon-oxygen-carbon bonds that link together smaller hydrocarbon chains.
Breaking down those C-O-C bonds is key to unlocking the smaller hydrocarbons, which can then be further treated to produce alkanes and alcohol.
Kou's team used their previous experience with selectively breaking C-O-C bonds to identify hot, pressurised water - known as near-critical water - as the best solvent for the reaction.
Water becomes near-critical when heated to around 250 to 300 degree Celsius and held at high pressures of around 7000 kilopascals.
Under those conditions, and in the presence of a suitable catalyst and hydrogen gas, it reliably breaks down lignin into smaller hydrocarbon units called monomers and dimers.
The researchers experimented with different catalysts and organic additives to optimise the reaction.
Removing the hydrocarbons from the water solvent after the reaction is easy - simply by cooling the water again, the oily hydrocarbons automatically separate from the water.
"It is then relatively simple to convert those monomers and dimers into useful products," said Ning Yan at the Ecole Polytechnique Federale de Lausanne, Switzerland, and a member of Kou's team.
That results in three components: alkanes with eight or nine carbon atoms suitable for gasoline, alkanes with 12 to 18 carbons for use in diesel, and methanol.

"For the first time, we have produced alkanes, the main component of gasoline and diesel, from lignin, and biomethanol becomes available," said Yan.