The Lightning Car Company, based in Peterborough, is showing its electric-powered Lightning GT at the British Motor Show.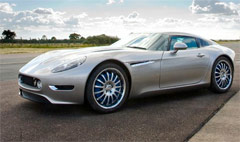 The GT's battery pack and motors are now said to give the equivalent of 700bhp; 0-60mph acceleration comes up in four seconds, although top speed is a more mainstream 130mph.
The GT has motors in each of its wheels - effectively making it four-wheel-drive - and a regenerative braking system to help recharge the batteries. It is built around a tubular spaceframe backbone chassis and weight is kept down by the use of carbon fibre/Kevlar body panels. It has selectable-mode electrically-assisted power steering and fully-independent suspension with coil-over shock absorbers.
Features include traction control, an electronic door entry system, a 'programmable external engine sound generator', alarm and immobiliser, electric windows, leather/alcantara sports seats, forged-alloy wheels, LED taillights and a home charging system. Options include air conditioning, magnesium/carbon-fibre wheels, tyre pressure and temperature monitoring, sat nav, full leather trim and mobile phone charging. Colours on offer are Electric Lightning Blue, black or silver. Other colours can be requested at extra cost.
Lightning hasn't yet confirmed final specifications or pricing, thought to be around the $300,000 mark, but it will no doubt announce more details at the motor show. It is, however, already taking $30,000 deposits.