Shelby Supercars, or SSC, isn't as well known as the likes of Bugatti, Ferrari or Lamborghini, but it's a special company for several reasons. In addition to holding the world record for the fastest production car, the company has just announced it's developing an all-electric version of its Ultimate Aero supercar (pictured) that it hopes will become the world's fastest electric vehicle (EV).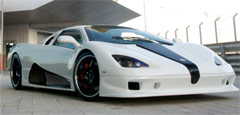 The Ultimate Aero EV, one of the first 'green' supercars, will begin testing in February next year and is expected to be in full production by the fourth quarter of 2009. "I think we can do it faster, leaner and cleaner than any other manufacturer," said SSC founder Jerod Shelby, who incidentally bears no relation to legendary race driver and sports car developer Carroll Shelby.
While final specifications are yet to be fully disclosed, the company claims the drive train under development employs a revolutionary new technology that will allow the car to travel for extended periods - years, in some cases - without needing to be recharged.
Power will come from a single 373kW electric motor, which should enable the Ultimate Aero EV to at least provide impressive acceleration and top-speed figures, if still short of matching the performance of its internal combustion powered sibling. A high-performance twin-motor version using two of the 373kW powerplants for a total of 746kW in either a two or four-wheel drive configuration is also being considered.
The SSC Ultimate Aero TT, a twin-turbocharged 882kW V8-powered production version of the Ultimate Aero, which shares the same basic chassis as the Ultimate Aero EV, is the current world speed record holder for all production cars. Many think the Bugatti Veyron is the record holder, but the Bugatti's mark of 406.75km/h was surpassed by the SSC supercar in September of last year, when it averaged 411.76km/h over two passes on a closed stretch of highway in the U.S. state of Washington.
The actual one-way top speed achieved was 413.83km/h, but to qualify for world-record certification, the run had to be repeated in the opposite direction and averaged to arrive at a final number.
SSC, in its imitable fashion, plans to set a new record with the car by making it the fastest electric car in the world.