VW has approved top-secret plans to build the limited-edition 'one-litre' car, capable of one litre per 100km, or about 282mpg. The new plan calls for the introduction of the super fuel miser vehicle in 2010.
Volkswagen first unveiled a concept version of the tandem two-seater car at a company annual general meeting back in 2002, predicting it could see production in 2012.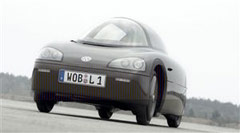 The concept, which in its original form could travel 100km on one litre of fuel, is close to production readiness.
The original bullet-shaped concept car looked more like a solar vehicle than regular passenger transport. It was 3.65m long, just 1.25m wide and less than a metre tall, with a jet fighter-style gull-wing canopy door. The side mirrors were replaced by cameras to improve the aerodynamics.
The door, cameras and the seating configuration – the passenger sits behind the driver – are expected to be retained for the production vehicle.
The 2002 concept was built entirely from composite carbon-fibre reinforced material, with a reinforced plastic outer skin concealing a space frame constructed from lightweight magnesium.
The vehicle weighed just 640 pounds.
It was powered by a mid-engined, 0.3-litre, single-cylinder diesel powerplant that put out a modest 6.3kW maximum power at 4000rpm. Fuel consumption was 0.99 litres per 100km, with a range of 400 miles from its 1.7 Gallon fuel tank. The engine was positioned ahead of the rear axle and drove the wheels through a version of Volkswagen's lauded six-speed automated manual, direct-shift gearbox.
The production version will be a two-cylinder diesel unit, with a mild hybrid system that would allow full-electric operation under some circumstances.
Despite the emphasis on weight-saving, the original vehicle came with a full safety package, including anti-lock brakes, stability control and a drivers' airbag. All three are likely to be retained for the production version.