The SeaGen tidal stream project has delivered electricity onto the national grid for the first time at Northern Ireland's Strangford Lough.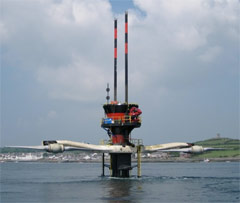 The world's first commercial-scale tidal turbine briefly generated 150kW of power onto the grid as part of commissioning work by developers Marine Current Turbines (MCT).
It will be deployed at a constrained 300kW rate during later stages of its commissioning, but is expected to reach full capacity in a few weeks' time, generating 1.2MW of power.
Commissioning work has been underway since the device was installed in May 2008, with grid connection provided by transmission operator Northern Ireland Electricity, which has also supported the project to the tune of £500,000.
An official "switch on" is expected towards the end of the summer, with power being purchased by Irish energy company ESB Independent Energy for customers in Northern Ireland and the Republic.
Martin Wright, managing director of Marine Current Turbines said connection was an "important milestone" for his company, and that tidal power in the UK had "real momentum".
Mr Wright said: "SeaGen is the world's first commercial-scale tidal stream generating system by a large margin. It is more than four times as powerful as any other tidal current system, including our own 300kW SeaFlow, the world's first offshore tidal device in 2003 installed off Lynmouth on the north Devon coast in 2003."
Liam Molloy of ESB Independent Energy added: "This is a very significant breakthrough which underlines ESB Independent Energy's ongoing commitment to providing our customers with a range of renewable energy options."