On the surface it looks much like an ordinary Nissan 4x4. But under the hood, engineers have installed one of the most advanced hydrogen fuel cells yet. A tank filled with hydrogen enables the vehicle to travel up to 300 miles.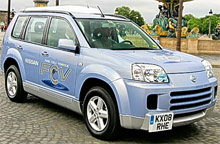 The Japanese car giant unveiled the multi-million-pound research car at Imperial College in London, and said it represents the way millions of motorists will travel by 2020. Work on the firm's Fuel Cell Vehicle program began in 1996, reaching a pinnacle with this version of the X-Trail. Nissan says it is world's most advanced FCV.
Officials admit there is still "significant" development work to be done. But scientists expect to have cracked key challenges - such as the durability of the fuel-cell - by 2010. Then they must achieve "drastic" cost reductions and make breakthroughs in the storage of hydrogen before the car can go on sale, after 2015.
Already engineers have boosted fuel-cell performance so it is 40 per cent smaller than earlier prototypes. And they have developed a system to compress hydrogen that allows enough fuel to be stored for about 300 miles.
On London test-runs, drivers reported travelling in near silence thanks to technology that relies on hydrogen being fed through the fuel-cell to produce electricity.
That electricity powers a motor that drives the wheels, the surplus charging a heavy bank of batteries that are used to give extra acceleration when needed.
The X-Trail already achieves 93mph and can carry five adults plus luggage. A spokesman admitted: "The cost of the system is still too high for mass production."