As part of efforts to reduce the energy problems experienced in Nigeria, Global Biofuels Limited, a company with headquarters in Lagos State, has devised an alternative energy source through sweet sorghum.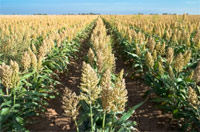 Babatunde Obilana, director of the company, said the process of refining the crop involved three stages: "Crushing to produce a sugary juice; fermentation to convert the sugary juice into ethanol" and the utilisation of what he called "bagasse" (gotten from the dried stalks of the crop), which he said, could be used as a renewable energy source for electricity and serve as fertiliser in farms.
"Significant progress has been made in the area of feedstock production in the country. The initial two varieties of sweet sorghum to be produced for feedstock have come from India. Two or three more improved varieties, developed by the Global Services Limited from selection among 11 local cultivars…will be added to the feedstock varieties production."
Obilana revealed that the project, pioneered in Ondo State, had already been adopted by Governor Olusegun Oni of Ekiti State, whom he said, had allocated 11,000 hectares of land at Ilemeso in Oye Local Government Area of the state for the company's use: "As of now, 5.0 hectares of bush have been cleared, ploughed and ridged. Planting is being completed using two varieties. Their agronomic and field performances will be monitored, observations recorded and data compiled, for the development of a sweet sorghum production database for Ekiti. In the next 18 months, a total of 3000 hectares of sweet sorghum feedstock will be harvested to feed the ethanol refinery for crushing, clarification of juice and fermentation into ethanol," he affirmed.
In addition to the production of ethanol, which when mixed with petrol at 10 percent ratio, produces "gasohol" to power vehicles, the director noted that the biofuel project would employ about 8000 people in each participating state, and reduce rural-urban migration.
Also, he said it would help lessen fuel importation, minimise CO2 emissions and ensure the country's attainment of the UN's E10 requirement by 2010.
"Expansion into five or six states of Osun, Oyo, Kwara, Kogi, Niger and Kaduna are already being considered through their strong participation," Obilana announced.