Edison International said Tuesday that it has agreed to buy 245 megawatts of thermal-solar power from plants to be built by local high technology company eSolar.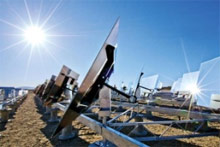 These plants will be built in a Los Angeles suburb by Idealab's utility-scale solar power spin-off eSolar and will begin operating in 2011.
The project creates steam made by solar heat generated by an array of mirrors covering 160 acres. eSolar says that its heliostat and thermal receiver design cuts down on costs in different areas such as using prefabricated heliostats.
The project is a move by the Los Angeles-based Edison, which is the largest utility provider in California, to meet increasing demand for power and increase the supply of power from renewable sources by one percent annually until reaching 20 percent in 2020,in accordance with state laws.
Since one megawatt can power up to 1,000 average homes, the project is expected to create enough power to supply up to 245,000 homes, Edison said. "
"Solar is the great untapped energy resource for California — it's renewable and plentiful," said Stuart Hemphill, SCE vice president, Renewable and Alternative Power. "We rely on innovative companies such as eSolar to help expand our industry-leading portfolio and to secure access to the most promising technology solutions."