Alaskan officials announced the exploration of the state's volcanoes, saying they could be exploited to provide energy for thousands of homes.
Companies are being invited to lease the rights to explore geothermal resources beneath Mount Spurr, a snowcapped 11,070-foot volcano that most recently erupted in 1992 showering much of Anchorage with volcanic ash.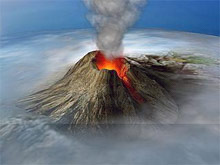 The state Division of Oil and Gas hopes the lease sale, due to go ahead in August, will be the first of many. It is also considering allowing exploration of the 4,134-foot Augustine Volcano, 171 miles southwest of Anchorage.
The move echoes a trend underway across much of the US as fuel prices, worries about dependence on foreign oil and climate change trigger a surge in geothermal projects, particularly in the West and along the Gulf Coast.
According to experts, America is only just waking up to the ancient power source lying beneath dozens of states that has the potential to supply as much as 25 percent of the nation's energy needs.
"High prices and climate change are definitely creating a renaissance in geothermal interest, particularly on a state and local level," said Karl Gawell, executive director of the Geothermal Energy Association.
"There really is a tremendous amount going on right now."
As well as Alaska, geothermal projects, which are eligible for tax benefits, are underway in most Western states and across the Gulf Coast from Texas to Florida, he said.
"It's only the tip of the iceberg in terms of what is possible," said Mr Gawell.
"If we really want to go all out for it, we could easily achieve a substantial amount, 20, 25 per cent of US energy needs within a few decades. We're limited more by public policy than the resource - the resource is enormous."
The Bureau of Land Management has just surveyed 11 western states and Alaska for "lands with high potential for renewable geothermal resources".
The study showed around 200 million acres of public land with geothermal potential, Mr Gawell said.
But he estimates 80 per cent of geothermal systems remain undiscovered as they have no tell-tale surface feature such as a hot spring. "We're still just finding the obvious stuff."