Conserval Engineering Inc. has launched its new SolarDuct line of rooftop solar air heating and thermal/photovoltaic (PV) systems, which is based on the company's SolarWall system.
The technology has been engineered for roof settings and for applications where a traditional wall-mounted system is not feasible, the company says.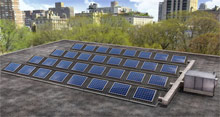 The system is an evolution of the SolarWall system, a vertical mounted solar thermal and heat recapture system that transfers heat into or away from a building's HVAC mechanicals depending on the season. The SolarDuct PV/T is based on the same principle of capturing heat from the sun and heat generated from excessive solar gain on buildings. The new system adds photovoltaic over thermal ducts to maximize energy efficiency.
The captured warm air can be vented into the HVAC system, preheated, to decrease the building's energy load. The draw of air away from the photovoltaics "also enhances the electrical operating efficiency of the PV by up to 10%," according to the manufacturer Conserval Engineering Inc. The solar thermal duct system acts as the mount for the PV, pre-angled to maximize solar gain and making it ideal for flat roof installations
"We are excited to be in a position to expand the solar air heating and PV/thermal markets with our new innovative rooftop systems" says John Hollick, president of Conserval and inventor of the SolarWall technology. "Our company has used our expertise platform to develop and design new solar products that will provide increased flexibility for clients looking to integrate renewable energy solutions on their buildings."
Like SolarWall, SolarDuct reduces on-site energy costs by heating ventilation air before it enters the air handling units. The patented system uses an all-metal collector panel and is designed for flat-roofed buildings in the commercial, industrial and institutional sectors. The SolarDuct product can also be used for PV/thermal cogeneration to reduce the return-on-investment timeframe on a PV system.