An Irish development company, REO is planning to spend $300 million repairing the Battersea Power station and get it working again -- this time producing energy from biofuels, waste and other renewable energy sources.
At the heart of the regeneration stands a vast new chimney and eco-dome, which as well as housing apartments and offices will act as a vast solar ventilation system cutting down the building's energy demand by two thirds.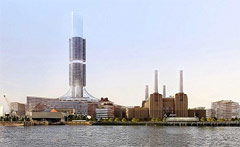 Proposals for the $6 billion conversion would see Battersea Power Station generate electricity again - but from renewable sources rather than coal.
The plans see the construction of a 1000 foot high tower and "eco-dome", designed by Rafael Vinoly, which would dwarf the listed station.
The developers insist that the transparent dome, to be made of a similar material to that covering the Eden Project in Cornwall, is not a building but a "solar driven natural ventilation system," the biggest of its kind in the world.
The chimney, which would also house apartments, would dramatically reduce carbon emissions of the 38-acre $6 billion development.
Rob Tincknell, managing director of development company Treasury Holdings UK, said: "We don't embark on projects that we can't deliver.
"We are determined that Londoners will not be disappointed and this area will be brought back to life in the most spectacular way. It will be a place to live, work and play."
The solar-driven natural ventilation system would eliminate the need for air conditioning for the commercial and ground floor retail accommodation, Treasury Holdings said.
More than $225 million would be spent on repairing Sir Giles Gilbert Scott's 1930s power station, with the key historic spaces retained and open to the public.
It would be rebuilt to incorporate hotel, residential and retail accommodation and produce power with a new combined cooling, heat and power plant, but this time using biofuels, waste and other renewable energy sources.