WorldWater & Solar Technologies Corp. is shipping 12 of its incredible Mobile MaxPure solar-powered water purification systems to the US military, which will use them to bring clean fresh water to farmers and families in the Euphrates Valley region of Iraq.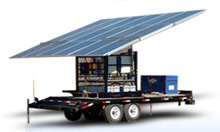 Mobile Max Pure is a portable, solar powered pumping and water purification system. A self-contained, stand-alone unit, the Mobile Max Pure also is equipped with a satellite based communications system and a 3KW inverter with battery bank for emergency power needs. Compact and rugged, easy to operate and maintain, the Mobile Max Pure harnesses the power of the sun to bring water and electricity to those in need.
The Mobile Max Pure unit is capable of purifying up to 30,000 gallons of potable water daily and can draw from both surface and well water sources. It can be powered by solar power alone or in combination with an optional back-up generator. The Mobile Max Pure water purification system incorporates a multi-stage micro filtration process and ultraviolet light treatment to sanitize water contaminated by dirt, silt, bacteria, cysts, parasites, viruses and other pathogens.WorldWater & Solar Technology's patented technology drives the water pump and powers the UV purification system directly from the sun. A fully solar-powered and portable unit, the Mobile Max Pure can be installed on a permanent, temporary, or semi-permanent basis – anywhere the sun shines.